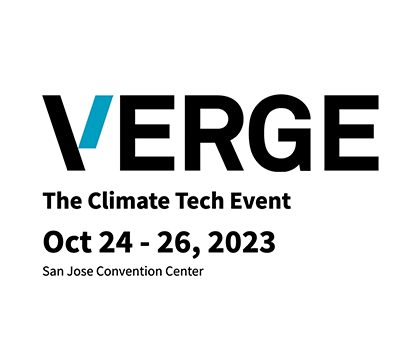 REsurety returned to VERGE to exhibit at the leading climate tech event.
REsurety exhibited at the VERGE 2023 event in San Jose, CA, on October 24-26. You could find us at booth #412.
About the event

VERGE 23 is the leading climate tech event accelerating solutions to the most pressing challenges of our time. It is the center of gravity for the climate community — leaders from business, government, solution providers and startups — working together to address the climate crisis.
The unprecedented challenges we face today present equally unprecedented opportunities to reimagine and redesign our world to be more prosperous, sustainable and resilient. The key programs that comprise VERGE 23 — Buildings, Carbon, Energy, Food, Startups and Transport — focus on seizing these opportunities.
Join the growing VERGE ecosystem of more than 5,000 professionals for this solutions-oriented event. By attending, you'll gain access to inspiring keynotes, engaging breakout sessions and tutorials, innovative exhibit displays, networking events and more.
Return to the event page main menu.