September 15, 2022
Authored by Blair Allen, Director, Software Customer Success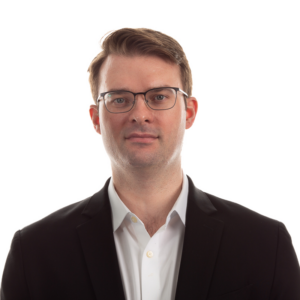 In our Q2 2022 REmap report, we focused on node-to-hub basis: how deteriorating node-to-hub basis and the increase in use of basis-sharing clauses in PPAs were forcing companies to direct more attention to it as a risk, and that investors were chief among that group because of its impact on project health and ultimately project returns. This has prompted investors to search for new tools to better understand the basis risk faced by existing assets, and to carry that focus up the decision-making tree when new investment decisions are being made. Simply put, basis exposure not only impacts the valuation for cash and tax equity investors, but increasingly whether to walk away and forgo the time and cost of additional due diligence of a project. To help drive towards more efficient and realistic investment decisions, investors are turning to alternative data sources to supplement their traditional methods.
One way that REmap, REsurety's SaaS-based market analytics product, supports more efficient and realistic project valuations is by saving investors time when accessing up-to-date historical basis performance for wind and solar projects. REmap shows hourly basis values for all operational wind and solar projects across the country. Investors use this data as a confidence check against forecasted basis values present in sponsor models, and to see how it aligns with historical performance at that proxy node as well as nearby nodes. Investors are turning to REmap for this information not only because it is easy to access and visualize with just a few clicks, but also because REmap's hourly generation for all projects enables users to see the generation-weighted impact of basis – which is ultimately what matters most for project valuations.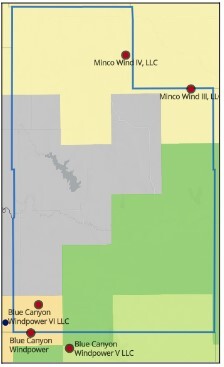 For example, an investor might be evaluating a portfolio of assets with a mix of operating and in-development projects. One project is an in-development wind farm in Caddo County, Oklahoma, and the engineering report included in the sponsor model designated a nearby operating wind project as the representative "proxy" node due to its geographical and electrical proximity to the new location. The sponsor model says the forecasted basis for the project is going to be $3 over the next few years then fall to $1 in the outer years. To confidence check this value, the investor can login to REmap and search for the county to identify the proxy node used in the consulting report, then quickly flip through the time series data for the proxy node to see how it performed recently, how prices have trended, and the project's generation-weighted value. The same is then done for neighboring nodes/projects to see if the proxy node is an outlier or consistent with trends in the area. If performance at other nearby nodes differs, a note is made to discuss this difference with the sponsor or consultants to understand why any differences may exist. In this example, the investor finds that, historically, generation-weighted basis has ranged anywhere from $2 to -$12 on average for the proxy node and neighboring nodes, and recent data suggests a downward trend at several locations. The decision is made to use several different basis scalar values in the project model, based on historical performance at these different locations, so that the investor can evaluate how these different scenarios may impact expected profits and the likelihood of hitting a return threshold. After discussing with internal stakeholders, a decision will be made on how to price the overall investment given the risks inherent in this project, or to pass on the investment opportunity.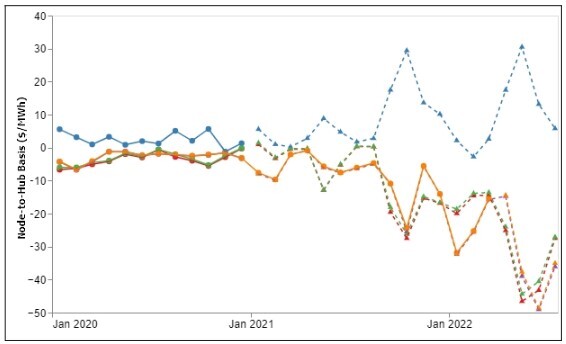 Investors know that markets are changing and history isn't necessarily an indication of future performance, and that costly 3rd-party basis forecasts don't get it right either. The utility of historical data is that it represents real-world performance and builds a foundation for evaluating the uncertainty in the future. Investors starting with a simple question – "how different is the forecast in the sponsor model from what's happened in the past" – can use the answer to determine how much time to put into due diligence, or how much risk to price into the investment. REmap is helping investors make these decisions more efficiently with centralized, easy access to the historical and forecasted data they need.
For more information on REmap, or REview, which is helping investors evaluate the basis risk of their current portfolio, contact [email protected].
Learn more about REmap:
See what's coming from REmap on the forecasting front
Learn how investment firm Hannon Armstrong is using REmap
Return to the blog post main menu.