August 26, 2022
"I love music and food, which relates to my love of cooking. But then when I'm able to grab some time for painting, that's a different kind of vibe."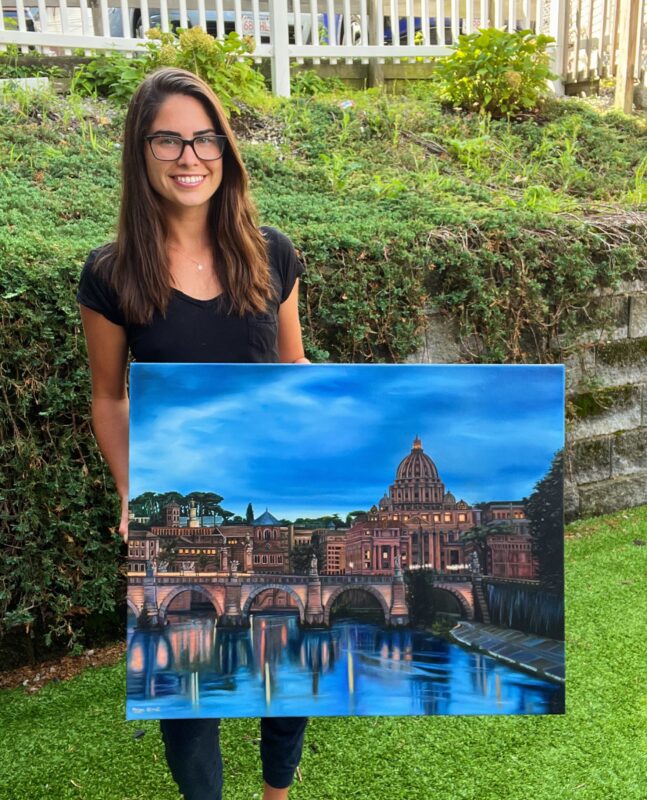 "I grew up around Boston on the South Shore. I would say as a kid, I loved learning and meeting new people. I was kind of an outgoing nerd. I'm a painter, so I would have my time to paint, but then I always wanted to learn something new at school and be a part of different clubs and groups.
"I went to Lafayette College down in Pennsylvania, and I was an art and environmental studies double major there. Honestly, energy and renewables wasn't something I had on my mind until college. I took an environmental geology class and the professor was inspiring and brilliant. I could tell that she believed in her students' ability to make an impact. So that environmental geology class was the reason I switched to an environmental studies major.
"I got to do a thesis that combined art and environmental studies, which was the first of its kind. I did a lot of research into plastic pollution in local water systems and how it affects the environment and everything downstream. Then I wrote a paper and created artwork based on the learnings from my research.
"I used to work at a large energy management company, and REsurety is exactly what I was looking for in the sense of pivoting completely to renewable energy. Also, working at a smaller company allows you to make a bigger impact and collaborate in ways that are not possible at a large company, and I've been enjoying that. I feel like everybody is more willing to adapt as well. Everyone is very interested in market changes and new legislation that affects our business and it should be talked about and worked through.
"REsurety is such a collaborative company. You might be in your silo at times, but the second you step out for happy hour or a bagel morning, that is when the magic happens. The conversations are really enlightening and I'm learning a lot.
"I'm most interested in energy storage as a technology and seeing how it advances. We saw that through solar and how big investments in solar can drive down prices and storage is now not attainable for most companies price-wise. So I think I'm most excited to see where storage goes.
"When I'm not working, I'm probably hanging out with friends. I love music and food, which relates to my love of cooking. But then when I'm able to grab some time for painting, that's a different kind of vibe.
"Also, I just joined the Young Professionals Board for a nonprofit called Friends of the Children, which is a different community outside of energy and art. They provide one-on-one mentorship to kids throughout their entire childhood who might not otherwise have that support or access to resources.
"It's related to the same kind of thing I did in college. For all four years I ran a volunteer program that was cooking for 30 women and children at a non-emergency shelter. That was on a weekly basis and when we made the food we got to hang out and eat with the residents. I learned a lot from women who have been through so many systemic obstacles and I felt like I've been in my own little bubble here in Boston, so it's been good to be a part of a new community."
Learn about other REsurety employees.
Return to the blog post main menu.