May 18, 2022
"I found anecdotally that a lot of meteorologists also play instruments."
"I grew up in the Boston area, and my dad was a sportswriter and my mom works in medical book publishing. So not really all that science-related. But I've always loved blizzards and snowstorms and thunderstorms. I still absolutely love snow. Growing up in New England, we definitely got a wide variety of weather. I was always fascinated by all of it and loved being out in it.
"I have a younger brother who's a software developer out in L.A. Sometimes we chat about agile development and things like that. We have this common vernacular now.
"Back then I took dance classes, I was in chorus, I played clarinet in the band, I acted. I was into the humanities, but I had this inclination for science and math. Everything appealed to me, so I went in as an undeclared major at Cornell University.
"One draw for Cornell was its marching band. I did marching band throughout high school and all four years in college. I played the clarinet. We did every home and away game, and we also did a couple NFL games, and a Canadian Football League game. Rehearsals were three times a week. One of them was Tuesdays until 11 pm, which now I can't imagine!
"Someone in the band was in the Meteorology Department, and he became known as the band meteorologist. I had never really found an outlet for all the math and physics, but once I saw, you can apply it to something that I really loved – the weather – that's when things started to click. I found anecdotally that a lot of meteorologists also play instruments.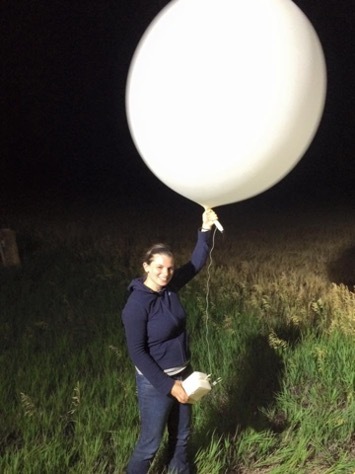 "I did an internship with the University of Rhode Island, sending up weather balloons with instruments to measure ozone. Then the summer after my junior year, I went to the University of Oklahoma and got into more severe weather research, and ended up going there for grad school too.
"My thesis was on how to better detect tornadoes with current weather radar systems. I did a lot of storm-chasing down there. It took me a couple of years of going out driving around dirt roads in Kansas, but I did eventually get to bag a couple of tornadoes. You end up running into all kinds of people, like a crowd of people on a dirt road in Kansas or Oklahoma. Now that I own a house, I have to say I don't think I'd be thrilled if there was a tornado coming through or hail, knowing I would have to pay to replace my roof. I think I'm good with an occasional minor thunderstorm.
"While taking a renewable energy class during the last semester of my Master's program, I realized I really loved learning about wind energy and the meteorology applications. That's when I decided to stay for a PhD so that I could learn more. During my PhD, I got to set up meteorological instruments at some operational wind farms and analyze the data, which gave me a great understanding of how important accurate measurements are for wind energy. After finishing my PhD, I did a postdoc with the National Renewable Energy Laboratory in Boulder, Colorado.
"I've always thought I liked working in industry more than academia, and I wanted to move back to the Boston area, because my family is still here. I started reaching out to my network, and was connected with REsurety. It was a smaller company then, about 10 or 11 employees, and they were looking to hire some kind of research scientist, so my skill set matched really nicely.
"I was able to look in-depth into the challenges we were facing and improvements we wanted to make with our generation modeling. What I bring is figuring out what we're doing well, where we can improve, and working with the engineering team to make those changes to our wind and solar models.
"Math and physics tend to be male-dominated fields. Having two female co-advisors in graduate school was very impactful in my life. Seeing that they had to work hard to be heard always inspired me to speak up and be confident. There was only one other female when I got here, and so I started Women of REsurety. I want the females here to have a connection to other women working at the company.
"I had a daughter five months ago, so my hobby right now is child rearing!"
Jen's full bio.
Learn about other REsurety employees.
Return to the blog posts main menu.