April 13, 2023
"The LME data that REsurety provides enables Akamai to more closely calculate the estimated impact of our activities at each location on the grid."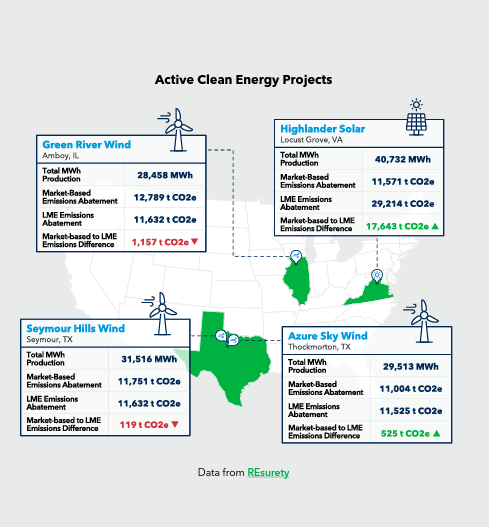 Akamai Technologies recently released their 2022 ESG Impact Report, highlighting their progress made in ESG focus areas. REsurety's Locational Marginal Emissions (LME) data is featured and the report explains how LME data helped Akamai more accurately track their emissions abatement for projects. Read the full report here.
Read the excerpt below to learn more.
"Measuring emissions abatement on a global scale is challenging, mainly because the amount of carbon emissions avoided by a given megawatt-hour (MWh) of clean energy varies widely, even across projects within the same region. To address this, in 2022, we began using Locational Marginal Emissions (LMEs) from REsurety to try to more accurately track our emissions abatement in each project location.
Under the reporting provided by REsurety, LMEs are an innovative way to measure the tons of carbon emissions displaced by 1 megawatt-hour (MWh) of clean energy added to the grid at a specific location at one particular point in time. LMEs are calculated at each power system node like the Locational Marginal Prices (LMPs) used to set wholesale electricity market prices. LMEs measure emissions by identifying the marginal generators that would have been producing energy if not for the renewable injection to the grid at that location.
The LME data that REsurety provides enables Akamai to more closely calculate the estimated impact of our activities at each location on the grid. LME reports also offer visibility into why emissions are what they are. For example, they show how much gas or coal is displaced or how much wind energy is curtailed due to our activities. These reports also provide insight that helps Akamai evaluate new market opportunities. Using LMEs ensures we focus on locations and technologies that can significantly impact our carbon emissions reduction efforts."
Return to the blog post main menu.