February 9, 2022
"I used to get home from school and instead of turning on cartoons, I'd watch the Weather Channel."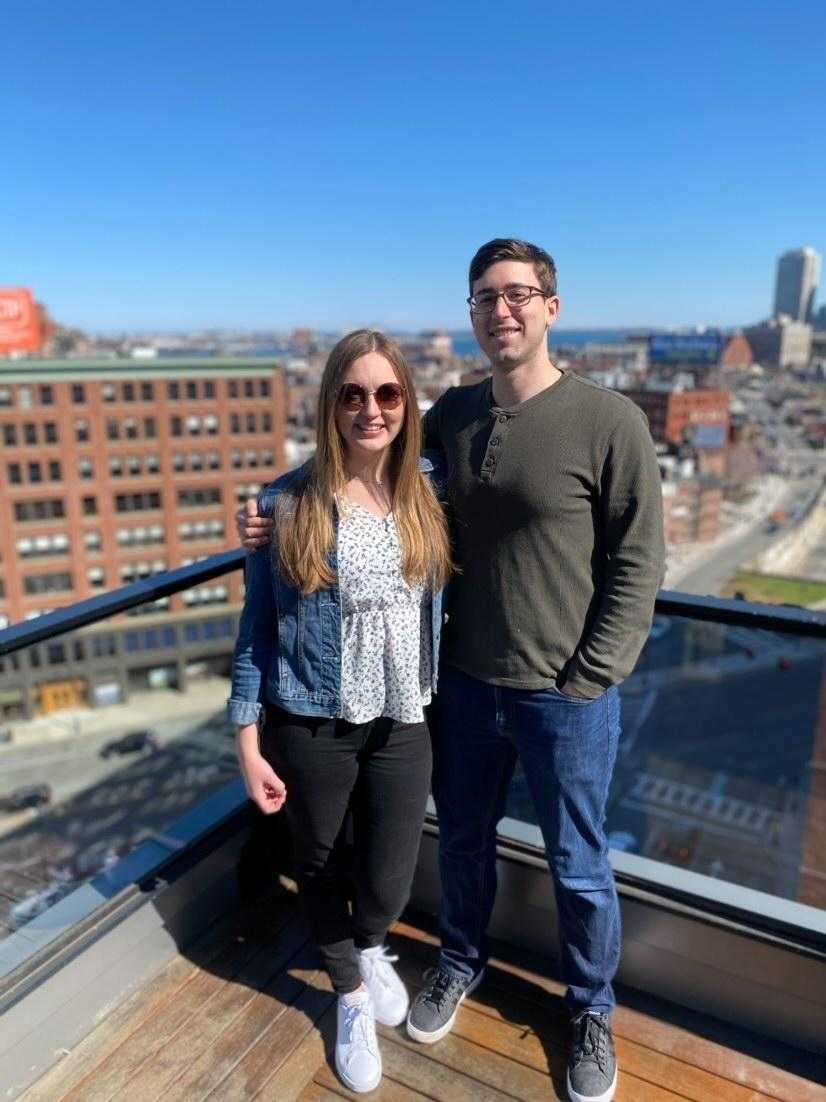 "I think it's pretty typical in the meteorology community to have a weather event when you're very young that was either very memorable, like a big snowstorm, or very scary, like a hurricane or a tornado. And I had a bunch of those when I was a little kid.
"I was only two at the time, but I have memories of the blizzard of '96, when we got 30 inches of snow in New Jersey. I walked out on my back deck, and there was a layer of ice on top of the snow. So I didn't have to use the stairs. I stood on top of the ice because I was so small, and just walked around.
"Then there were a couple of tornado warnings, and a couple of big thunderstorms that knocked some big trees down toward our house and on cars in our driveway. So I basically became fixated on the weather as a really young kid, following all these violent weather events.
"I used to get home from school and instead of turning on cartoons, I'd watch the Weather Channel. And if there was interesting stuff going on, the TV just sat on the Weather Channel for six or eight hours. So that's where it started. And then I knew I wanted to go to Penn State to study meteorology because they have a pretty laudable program for that.
"There should be a sign when you get off Exit 161 in State College: 'You have reached the middle of nowhere.' So yeah, it was a different environment for sure. But a lot of great people in meteorology come through Penn State, and they've got some cool weather out there. A lot of my professors were frankly the same people who write the textbooks for forecasting severe weather. And then, 'Oh, there's a severe weather outbreak today, let's all talk about what's going on.' That's just an awesome experience that was totally worth going to the middle of Pennsylvania for.
"When I was in my freshman year, Hurricane Sandy was a huge event. In my part of New Jersey, the National Guard was deployed and power was out for a month. Some of the towns in my school district are essentially a barrier island, and it was a reminder to everyone there that, you know, these islands are probably not going to be here very long. But there's a lot of smart people trying to work on solutions, and I'm happy to be part of that.
"There are a lot of different disciplines within meteorology. There are the ones I think everyone is most familiar with, your baseline physics and fluid dynamics. You go through a couple of 400-level classes, and then you train to go on TV. And there are people who just do cloud physics, how different particles stick to each other in the air and become raindrops or ice, or how they interact with pollutants and particulates.
"But Penn State offered a major called 'weather risk management' which felt more up my alley. I liked the idea that weather could have a tangible impact on the world. I wanted to say, as a result of storm XYZ or whatever extra rainfall, we expect some tangible impact that people might care about. We all live in the atmosphere every day, so this should be applicable to a wide range of industries. And I identified energy as one that I would like to get into.
"So when the REsurety opening was posted on the Penn State jobs board, there wasn't anything as interesting as this. With the people I interviewed with, there was a lot of excitement. I liked the idea of applied meteorology, rather than just forecasting. And I thought, 'Oh, this is a new industry and it's growing fast. It'll be a fun one to be a part of.' I don't think that assessment was off.
"One thing we focus on is building an effective portfolio of risks, finding risks that cancel each other out, and how storage can help offset those risks. An easy one for most people is that solar and wind in Texas have a relatively complimentary profile, so you should have both, not just one. But trying to communicate that to people is hard. We try to find visualizations that are useful. And a lot of that shows up in our software.
"You can think of risk transfer like an insurance product. A wind farm needs capital investment to get built, just like you would get a loan to build a house, but they need to prove to the bank that they're going to be able to repay that loan. Usually they've measured wind speed for a while, and essentially what I do is take that information and synthesize an idea not just of energy production but of what we think the long-term revenue production of this plant is going to be. Then we go to a hedge provider and say, 'given this expected risk profile of future revenues, what premium would you charge to mitigate that revenue risk for the project'. And if both parties agree, everybody shakes hands, the wind farm gets their construction loan, and gets built. The hedge provider gets a premium as well as upside if the wind farm over-performs.
"When we're doing risk transfer transactions, it's nice to see my work turn into a wind farm, and that wind farm will displace coal, and hopefully be a greener path forward for the energy economy."
Learn about other REsurety employees.
Return to the blog posts main menu.