March 9, 2021
Texas crisis illustrates how hourly generation during high-priced hours spells the difference between big wins and big losses for clean energy buyers and sellers.
Hourly power price and generation data is now available in REmap, a tool widely used by leaders in the renewable energy industry to identify value, understand risk and optimize offtake and hedging strategies. REmap's new Hourly Data Explorer allows users to investigate the hourly performance of thousands of operational and synthetic projects.
The Hourly Data Explorer continues REsurety's commitment to provide unrivaled breadth of market intelligence and depth of project-specific insight, empowering key decision makers.
"The February winter storm across the Southwest provided an extreme example of an already clear trend: fortunes are made and lost by generating during the right hours, not simply by achieving a high annual energy production," said Lee Taylor, founder and CEO of REsurety. REsurety launched the map-based tool in May 2020 as an SaaS product, to provide the data and analytics required by the complex, data-driven industry that is the modern renewable power market.
Last year, REsurety used REmap to reveal how low energy demand during the coronavirus shutdown — combined with low natural gas prices and high renewable generation in April 2020 — sent the production-weighted wholesale price of wind-generated electricity to all-time lows across the SPP, PJM and MISO power grids.
This week, in a column for Utility Dive, REsurety digs into what REmap data tells us are the top trends and takeaways in renewable energy markets today.
The resiliency that the Texas grid so badly needed in February 2021 was foreshadowed by similar — though smaller — power market events in 2020 and 2019. "One thing REmap shows us is what renewable energy projects could have generated during the Texas deep freeze of February 2021, based on the actual wind and solar resource available," Taylor said.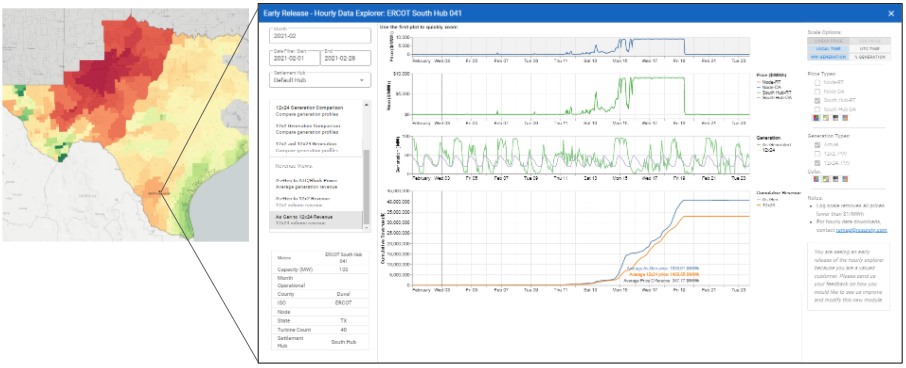 Theoretical project generation data, given site-specific weather conditions and plant characteristics, will be available in REmap in early March. Hourly metered generation at the project level for ERCOT projects will follow in early May. REmap can help users understand the financial implications of the February 2021 deep freeze on contract settlements, and inform their expectations moving forward.
REmap stands for "Renewable Energy Market Analytics Platform." To keep it populated with the latest information, REsurety collects, cleans, and analyzes billions of data points from a wide range of sources. Industry leaders use the resulting massive database to inform their decision making on new investments, to benchmark against their peers and competitors, and to inform their offtake strategies – both as buyers and sellers. Current REmap customers include developers, investors, C&I buyers, and advisors. Joan Hutchinson, Managing Director of Marathon Capital and an early REmap client, described REmap as "a sea change in the access to quantity and quality of data."
Return to the press release main menu.